Crillon le Brave, a
provençal

hill village.

I first moved into the house which serves as a studio and gallery in Crillon le Brave in 1998. Since then much has happened. I am now married to Ruth and we finally bought an old provençal house nearby to live in (see Ruth's diary), as the atelier in Crillon-le-Brave was getting a little crowded.

Crillon le Brave has changed quite alot since 1998. There has been much new building around the foot of the village, although the old village center is smarter than it was with more buildings beautifully renovated by the Hostellerie. The view from the village of the Mont ventoux is still as extraordinary as ever and fortunately the Bedoin side of the village which is virtually a cliff still descends in to virgin vineyards.

The print of Crillon le Brave on the left is a view from the lovely little chemin which winds out through vineyards and olive groves towards La Sidoine. It leads eventually through the hamlet of Les Gargories to La Madeleine, an extraordinary Romanesque chapel in the grounds of a private house. If you wish to know more about Crillon-le-Brave and this part of Provence, I suggest visiting the Hostellerie's tour page which has more on the village and it's history.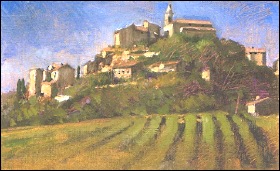 Crillon le Brave, a signed and numbered limited edition print, archival giclee on acid free paper. Order a Print »